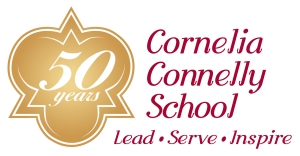 We're celebrating 50 years
Saturday October 15, 2011
2 p.m. Mass at St. Justin Martyr Church
(Bishop Tod D. Brown presiding)
followed by a family picnic at Connelly (@3:30 p.m.)
*Noon reception for alumnae and past faculty: Please join us, gather with classmates and former faculty at noon, for a special celebration of Connelly's 50 years of excellence in education. This reception is at St. Justin Martyr Church, in O'Connor Hall.

BRING YOUR FAMILY to the Family Picnic! We'll have games, face painting, and fun activities for children at the picnic. DON'T MISS THE FUN!
Carl's Jr. food truck
Wienerschnitzel hot dogs
food from La Casa Garcia
Soda and water provided by Northgate Markets
Ice cream donated by Stater Bros.
Pies donated by Marie Callender's
RSVP today. Send your RSVP now to [email protected].
Alumnae: It's easy to plan your reunion for October 15!
Plan your Class Reunion at the family picnic. No need to pick a hotel, plan the meal, etc. Bring your family, and a blanket, maybe a dessert to share with friends. The meal will be provided. Call your classmates and RSVP to your Alumnae Coordinator Cerise Metzger at [email protected].
We need YOUR HELP: You can help plan the 50th Anniversary events, or serve as a Class Captain and contact alumnae, encouraging them to attend and donate in support of your alma mater. Contact Alumnae Coordinator Cerise Metzger at [email protected].
Share your story! Tell us how Cornelia Connelly School continues to shape your character, confidence and career. Share photos on the 50th anniversary photo gallery page.
Share your memories, stories and photos about Connelly!
Where are you now?
What do you remember/miss the most?
Tell us why you donate, so other young women can have the same experience.
Email stories and photos to [email protected] or find us on Facebook and spread the word about Connelly at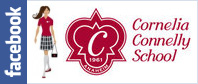 .



Reconnect with Connelly and your fellow alumnae!

Visit the Alumnae Reunion Calendar page to get more information about events. Submit an update about yourself on the Class Notes page. Get in touch with your classmates using the Email Directory page.
Look who's attending!
Relive........Remember..........Reconnect
These former faculty members and alumnae already sent in their RSVP. Have you?
Sr. Patricia Phillips, SHCJ
Sr. Beth Muir, SHCJ
Sr. Joanne Sullivan, SHCJ
Sr. Nora Sweeney, SHCJ
Sr. Tobie Tondi, SHCJ
Carleen Koscielak '73
Mary Pat Anderson
Maria Arii
Margaret Carlberg
Michele Alcaraz
Nancy Downey-Janka
Beatriz Jacobson
Sr. Mary Beatrice Kelly, CSJ
Amy Luskey-Barth
Emma Mallon
Lynn Mountain-Oravetz
Karen Nerrie
Linda Rader
Gloria Sawrey
Pauline St. Amant
Hani Zubi
Heather (Schley) Labow '88
Mary (Palazzola) Granger '85
Victoria Josefina Limon '04
Barbara Yu '87
Sr. Bridget May