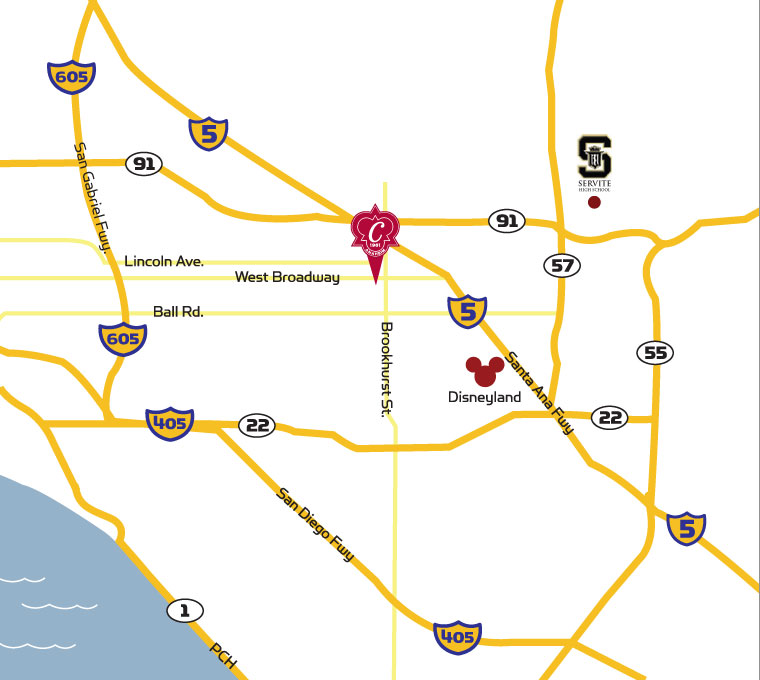 Cornelia Connelly School is nestled in the heart of Orange County, a mile from both the 91 and 5 Freeways in Anaheim and located on Broadway, just west of Brookhurst. Connelly is just 5 minutes from our brother school, Servite, and minutes from both Disneyland and Knott's Berry Farm. Only 30 minutes from the beach, Connelly is easily accessible to families in Orange, Los Angeles and Riverside Counties.
We look forward to meeting you and we invite you to come see our beautiful garden-graced campus. There are many opportunities to experience the Connelly spirit on Shadow days and at Early Bird Open Houses and Open Houses. Get to know our Connelly families by shadowing with current parents and attending a concert, play or gardening day.   
DIRECTIONS - Click here for printable directions
From Los Angeles:
Interstate 5, South
Exit at Brookhurst St./La Palma Ave., 0.3 mile
Right on N. Brookhurst St., 1.1 mile
Right on Broadway, 0.2 mile
School is on the right

From San Clemente and south Orange County:
Interstate 5 North, toward Los Angeles
Exit at Euclid St., 0.3 mile
Left at N. Euclid Street, 0.3 mile
Right at W. Lincoln Ave., 1.0 mile
Left on S. Brookhurst St., 0.3 mile
Right on Broadway, 0.2 mile
School is on the right

From Riverside:
California Highway 91, West, toward Corona
Exit Brookhurst St.
Left on S. Brookhurst Rd.
Continue on N. Brookhurst St., 1.8 mile
Right on Broadway, 0.2 mile
School is on the right 
Campus Map:
(click on map for larger view)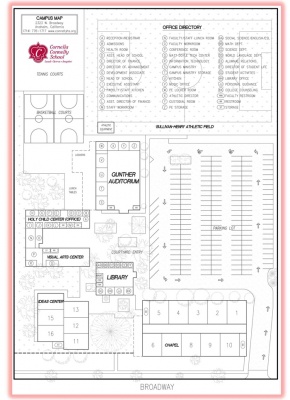 Open Houses
Connelly hosts two Open Houses a year for prospective families.  Open Houses are an opportunity for families to become better acquainted with Connelly through student guided tours, meeting teachers, and listening to a panel of speakers composed of students, teachers, and our Head of School.  Please check our Admissions Calendar for all of our Open House dates and times.  We highly encourage you to attend our Fall Open House where our award winning Advanced Women's Ensemble and Handbells will be performing! 


Open House
Fall Open House: Sunday, November 1, 2015, noon - 3 p.m.
Student Shadowing

Connelly invites all prospective students in the 7th grade or above to come and spend the day with one of our current students. Shadowing with a group of friends is welcome! Shadows will be able to experience classes, participate in school activities and meet the Connelly students.
Parent Shadowing
Schedule your personal tour for the same day your daughter shadows at Connelly! Drop off your daugher, and sit in a class of your choice for 10-15 minutes.
Family Shadowing
Our families want to host your family at a Connelly event! Join our family for a concert, social event, or gardening day and we'll introduce you to Connelly parents, students, and faculty members. Appointments must be scheduled at least one week in advance. For more information on these events or to schedule an appointment, please contact our Admissions Department at 714-776-1717 or at [email protected]. 

To schedule a student, parent or family shadowing appointment, please call the Admissions Office at 714-776-1717 or email [email protected]. Shadowing appointments must be made at least a week in advance.

Gardening Days (Saturdays):
September 19
October 31
November 21
January 9
February 20
March 19
April 23
May 21
June 3


Fall Concert: Friday, October 23 @ 7:00 p.m.
Christmas Concert: Wednesday, December 9 @ 7 p.m.
Class Plays: Friday, March 11, 8:15 a.m. - 2:30 p.m. or come for the evening performances that begin at 6 p.m.
Spring Concert: Friday, April 21 @ 7 p.m.
Campus Tours
Parents and prospective students are always welcome to visit the campus for a complete tour during the hours of 8:30 a.m. and 3:30 p.m. Please call the Admissions Department at 714-776-1717 to make an appointment for a campus tour. 
**To request information or an appointment for any of these events, please click here.