Updated: Thu, Nov 15, 2012 at 11:42:19 AM
Summer reading assignments and 2012-2013 book list are posted on the Web site
Visit the Books & Uniforms page of the Web site to review the booklists for the 2012-2013 school year.
Visit the Summer Reading Assignments page for information about which classes have required summer reading and assignments due the first week of school.
Get ready for Volleyball tryouts at Volleyball camp!
Connelly's Coach Garry Currier will host a Volleyball Boot Camp at American Sports Center August 6-9 and 13-16. Click here to read the flier and print the registration form. Connelly's volleyball tryouts for the 2012-2013 Season are August 20, 21 and 22, 3 - 5 p.m. at American Sports Center, 1500 South Anaheim Blvd., Anaheim, CA 92805.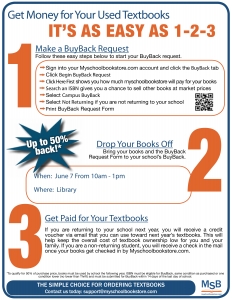 BOOK BUYBACK DAY IS THURSDAY, JUNE 7, 10:30 a.m. to 1 p.m. in the library.
Click here to read the 2012 Book Buyback flier with all the information on how to prepare your books for resale.
The list of books that myschoolbookstore.com will purchase back is available at www.myschoolbookstore.com. Click here to read the list of books that myschoolbookstore.com will purchase again. The Web site also offers a list of Connelly's textbooks which the company will buy back and the list shows the amount offered for each used book. Damaged books or excessively highlighted books will not be accepted back.

To start the resale process:
Please go to www.myschoolbookstore.com and click on the BuyBack tab, then click on the Begin a BuyBack Request link. Select Campus BuyBack to bring books to the Connelly Library or Individual BuyBack to mail the books yourself. Books must be submitted no later than 2 weeks after the end of school. By June 22. You will need to print the completed BuyBack Request to submit with your books.

Congratulations to the following softball team members:
Christina Madrigal for First Team all league
Marissa Driggs for second team all league
Selina Bernal second team
Emily Rea for honorable mention all league

Kudos to the following Koalas who qualified for CIF swim competition
Dominique Codjia '15
Dana Fish '13
Theresa La '12
Laura Perez '13
Sabrina Soto '15
Catherine Wippler '12
Laura Yu '13

Congratulations to Connelly's top athletes
Athlete of the Year Nikki Yost
Rookie of the Year Zoe Stanley and Helen Pauly
Coaches Award Selena Bernal and Jessica Kuiper
Courage Award Hannah Demetor
President's Gavel Nikki Yost

Cross Country
MVP Laura Yu
Most Inspirational Nicole Mirand
Most Improved Kaitlin Pyne

Golf
MVP Emily Rea and Kimberly Silvestre
Most Inspirational Christina Madrigal
Most Improved Molly Pascale

Volleyball
MVP Nikki Yost
Most Inspirational Haylie Butler and Grave Cuevas
Most Improved Rebecca Shea

Tennis
MVP Alexine Gallagher and Kristin Obligacion
Most Inspirational Alex Lopez
Most Improved Natalie Mirand

Soccer
MVP Jessica Kuiper and Helen Pauly
Most Inspirational Imani Smith
Most Improved Michelle Manning

Softball
MVP Emily Rea
Most Inspirational Lucia La
Most Improved Christine Lim

Varsity Swim
MVP Sabrina Soto and Dominique Codjia
Most Inspirational Catherine Wippler
Most Improved Theresa La

JV Swim
MVP Carmen Vera
Most Inspirational Marisa Castaneda-Garcia
Most Improved Natalie Minnetian

Basketball
MVP Leilah Ali
Most Inspirational Kassandra Orate
Most Defensive Kassandra Mier

Congratulations 2012-2013 ASB



Ecology Jennifer Nguyen
Interschool Reps Hailey Sledge and Marissa Driggs
Activities Divya Amruthkumar

Senior Class
President Haylie Butler
Vice President Katherine Han
Secretary/Treasurer Rebecca Michael

Junior Class
President Belinda Mullally
Vice President Katie Evans
Secretary/Treasurer Chanel Castaneda

Sophomore Class
President Hannah Butler
Vice President Alyssabeth Reyes
Secretary/Treasurer Dominique Codjia


Connelly Family Camping Trip
The Astronomy/Environmental Club invites you to camp at Joshua Tree National Park May 25-May 27, 2012. Enjoy rock scrambling, stargazing and hiking. Current students, faculty, staff, alumnae and their families are all welcome. If you are interested, please contact Mrs. Helen Wagner [email protected]. Campsite fee is $7 per person. You must provide your own transportation, camping equipment, food and water.

Congratulations to the 2012-2013 Cheer Squad
Raynee Dulac '13 (Captain)
Stefanie Rodriguez '14 (Captain)
Taylor Alcaraz '14
Chanel Castaneda '14
Anna Huynh '14
Emily Reid '14
Emily Giles '15
Alyssa Reyes '15
Jonina Capino '14
Tessa Rodriguez '14
Miranda Demetor '15
Andrea Murillo '15
Jaclyn Ramos '15
Alyssa Rodriguez '15
Samantha Edwards '15
Erin Wolfe '16
Kymberly Camp '16

Congratulations to Connelly's 2012 Prom Court
Hannah Demetor '12
Britani Letcher '12
Pam Infante '12
Raynee Dulac '13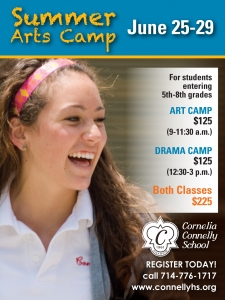 Connelly to offer a Summer Arts Camp for 5th-8th graders: June 25-29, 2012
Review the Summer Arts Camp flier and REGISTER TODAY for one week of fun in the arts! This is a great opportunity for students entering 5th - 8th grades to spend extra time building or learning new skills. The weeklong program will end with an exhibition and a performance in the new Visual Arts Center at Cornelia Connelly School. Sessions in Art and Drama are $125 each or SAVE and register for both sessions for $225 total. Please register with payment by Friday, June 15 for priority. For additional information, please call Jasmine Villa at 714-776-1717 Ext. 221.

Kudos to our Connelly athlete scholars
Congratulations to Marissa Driggs '13 on her grand slam during Tuesday's game against Eastside Christian and to Christina Madrigal '13 on her home run during the same game!

Travel to Spain with Connelly in June 2013
If you missed the April 17 meeting regarding the trip, don't worry. GET DETAILS NOW: All the information about the trip can be viewed at www.eftours.com. Enter the tour number 1253029 in the blue box on the right, where it reads: "Have a tour number?" Or, click here to read The Spain 2013 Travel Plan (the same file you can download on the eftours.com site.)
SAVE $100 BY REGISTERING BEFORE APRIL 30.
This travel opportunity is for students, parents, alumnae and all members of the Connelly community. Mrs. Gloria Kam and Mrs. Helen Wagner will be the group leaders for this trip.
The June 12-24, 2013 trip includes:
4 nights in Barcelona
2 nights in Pamplona
2 nights in small towns along El Camino de Santiago
3 nights in Madrid

RSVP by April 25 for the Girls Athletic Association Banquet, April 30 @ 6 p.m.
Tickets are $15 per person. Please RSVP to Mrs. Henry today. Please complete this Girls Athletic Association Banquet RSVP Form and return it to Mrs. Henry with your payment.

Mark your calendars for the 2012-2013 School Year
June 25 - July 31 Summer School
August 18 New Family Orientation (10:30 a.m. - 1 p.m.)
August 18 Family Day Picnic (1 p.m.)
August 20 Student Orientation and Pictures (9 a.m. - 12 p.m.)
August 21 First Day of Classes
December 21 - Jan. 4 Christmas Break
March 29 - April 5 Easter Break
June 9 Graduation

Great job!
The following five Connelly Girls scored in the top 20 percent of students nationwide who recently took the National Financial Capability Challenge - a U.S. Department of the Treasury test: Valerie Alcaraz '12, Sierra Christy '12, Madline Lontok '12, Brianna Hunley '12 and Monica Sanchez '12. Twenty-seven Connelly students took the test.

Congratulations to Connelly's Swim Teams!
JV Swim placed 2nd at the March 30 league meet at East LA College
Kately Arriaga '14: 1st medley relay, 3rd fly
Aly Lardenoit '12: 1st medley, 3rd 200 free relay
Veronica Murashige '12: 1st medley relay, 3rd 100 free, 3rd 200 free relay, 2nd 400 free relay
Rahael Rawson '14: 1st medley relay, 3rd 50 free, 2nd back, 2nd 400 free relay
Carmen Vera '15: 1st 200 free, 1st fly, 3rd 200 free relay, 2nd 400 free relay

Varsity placed 5th
Dominque Codjia '15: 2nd medley relay, 3rd back, 2nd 400 free relay
Dana Fish '13: 2nd medley relay, 3rd back, 2nd 400 free relay
Sabrina Soto '15: 2nd medley relay, 3rd 200 IM, 2nd 500 free, 2nd 400 free relay
Catherine Wippler '12: 2nd medley relay
Laura Yu '13: 2nd 400 free relay

Connelly's Swim Team placed strong in the March 24 Savanna High School Invitational
Varsity placed 4th on 12 teams. JV took 9th place in 15 teams.

Scholarship winner!
Kudos to Connelly and Tri-School performer Erica Schaeffer '12 who won one of five prestigious scholarships from Musical Theatre West Footlighters. The $1,000 scholarship is to be used for college expenses. Please join us in congratulating Erica on her wonderful achievement.

Congratulations!
Kudos to the koalas who received the following awards at the March 13 Cheer Banquet
Raynee Dulac '13 - Coach's Award
Emily Reid '14 - Most Improved
Stefanie Rodriguez '14 - Scholar Athlete
Alyssa Reyes '15 - All-round Award

Try out for the 2012-2013 Cheer Squad
Students interested in trying out for the Cheer Squad next year, must complete the Cheer Application. Tryouts are April 16-18, 2012.

There's still time to buy your Galaxy of Stars tickets
Don't miss the St. Patrick's Day fun at our annual Galaxy of Stars Dinner & Auction. The event is just around the corner, on March 17. RSVP today. (To reserve your ticket or two, click on the invitation at the left or stop by the office with your RSVP form and a check.)

See the Friarbots compete in the Los Angeles FIRST Robotics Competition, March 16-17
The Los Angeles First Robotics Competition will take place on March 16-17 at the Long Beach Arena in Long Beach. The Friarbots, FIRST Team 3309 from Servite, Connelly, and Rosary, will compete with its robot along with over 1500 students from 66 high school teams.

Dubbed a "varsity sport of the mind," FRC combines the excitement of sport with the rigors of science and technology. Under strict rules, limited resources and a six-week time limit, students are challenged to raise funds, build and program a life-size robot and learn about teamwork.

The Friarbots, FIRST Team 3309 built a robot that shoots hoops. This year's game, "Rebound Rumble," is played between two alliances of three teams each. Each Alliance competes by trying to score as many of the basketballs in the hoops as possible during the two-minute and 15-second match. Balls scored in higher hoops score teams more points. Team alliances are awarded bonus points if they are balanced on bridges at the end of the match.

The FIRST Robotics Competition is an exciting, multinational competition where teams of professionals and high school students work together to solve an engineering design problem in an intense and competitive way. The competitions are high-tech spectator sporting events, the result of lots of focused brainstorming, real-world teamwork, dedicated mentoring, project timelines, and deadlines. Ultimately, the robot is just a vehicle for spreading the message of FIRST, which is to inspire other students and shre that "smart is the new cool."

The entire Servite, Connelly, and Rosary community is invited to attend this free, high-energy, event. In addition to watching matches, spectators of all ages are invited to join teams on the arena floor to get up close with the robots and see their engineering know-how firsthand. Our team will update Facebook (www.facebook.com/friarbots) and Twitter (@ServiteRobotics) frequently with new updates and let you know when we're going out for a match! Learn more at the team website, www.serviterobotics.org and on Connelly's Robotics Club page.

The competition takes place March 16, 9 a.m. - 6:45 p.m. and March 17, 9 a.m. - 5:30 p.m. DON'T FORGET TO WEAR YOUR CONNELLY GEAR!! Attendees are encouraged to come and go as they wish during this two-day event. The Long Beach Arena is at 300 East Ocean Blvd, Long Beach, CA 90802.

Senior families - Don't miss the opportunity to buy a Senior Yearbook Ad
Grad Ads are $285 for a full-page ad, $230 for a half-page ad, and $185 for a quarter-page ad. The deadline is March 23. You may purchase an ad by delivering a check (made payable to Cornelia Connelly School) to Mrs. Tormey, with a written message to your graduate and pictures. OR You can purchase your Grad Ad on the Yearbook Page and follow the prompts for purchasing a personal ad. If you have any questions, please email Mrs. Tormey at [email protected].

Important Scholarship dates and information from the College Counselor
FAFSA Deadline Seniors: Do not forget the FAFSA is due MARCH 2. Do not miss this very important deadline for financial aid.

March 15 College Night, 6:30 - 8 p.m.
Please join us for a presentation and question and answer session with admission directors from out of state colleges and universities. This program is specifically geared toward current juniors about to begin their college admission process. However, all grade levels are welcome to attend for informational purposes.

Connelly students names to softball and swim teams
Softball:
Gabriella Alcaraz '14
Selena Bernal '12
Marissa Driggs '13
Eibhlin Kay '14
Lucia La '13
Christine Lim '12
Christina Madrigal '13
Natalie Mirand '13
Elizabeth Neal '15
Kassandra Orate '14
Emily Rea '12

Varsity Swim:
Brianna Becerra '12
Dominique Codjia '15
Emily Dubelbeiss '12
Dana Fish '13
Caroline Hiatt '12
Theresa La '12
Laura Perez '13
Sabrina Soto '15
Catherine Wippler '12
Laura Yu '13

Junior Varsity Swim:
Isabelle Alarcon '14
Kately Arriaga '14
Marisa Casteneda-Garcia '12
Mia Kim '15
Jessica Kuiper '12
Aly Lardenoit '12
Katelynn Mello '15
Natalie Minnetian '15
Veronica Murashige '12
Rahael Rawson '14
Carmen Vera '15

Connelly Soccer in playoffs
Playoffs: Wednesday, Feb. 15 @ 3 p.m.,
Connelly plays Nuview Bridge @ Nuview Bridge, 30401 Reservoir Ave., Nuevo, 92567, (951) 928-8498

New Visual Arts Center scheduled to open in spring
Cornelia Connelly School has exciting news.
Our new Visual Arts Center is under construction. It will include an art gallery to display students' work, and sun-filled areas for students to study ceramics, drawing, painting and graphic design.

Connelly also is converting a current art room to a physical and biological science classroom. This renovation not only strengthens our science program, but it will free-up a room to be redesigned and used as a prayer chapel.

Important notice regarding roadway construction and detours near Cornelia Connelly School January 16-27

During this phase of construction, there will be a closure of the Westbound lanes on Broadway from Brookhurst to Rosebay, and a detour will be provided. Detour signs will provide an alternate route during this phase. Broadway's Eastbound lanes will be accessible from Gilbert. Please use caution and obey all detour notices as well as traffic control signs in this area.

Galaxy of Stars Dinner & Auction Volunteer Meeting Thursday, January 12 @ 6:30 p.m.
The Galaxy of Stars is a parent-run fundraiser. The funds raised helps to bridge the gap between tuition and the actual cost to educate each student. The Galaxy of Stars will be held on Saturday, March 17, 2012. We need your help to make this event a success. Please join us for a volunteer meeting on Thursday, January 12 at 6:30 p.m. Volunteering with this committee or at the event fulfills your family service hours obligation. Please RSVP to Aykesha Walker at (714) 776-1717, ext. 248 or [email protected].

College Financial Aid Information Night - January 17
Connelly will host the FAFSA Financial Aid Night on January 17, at 7 p.m. (*note this date has changed from the previously calendared January 10 event). David Carnevale, Director of Financial Aid at Whiiter College will speak about the different types of financial aid, including FAFSA. For more information, please contact the College Counselor, Andrea Velasquez at [email protected].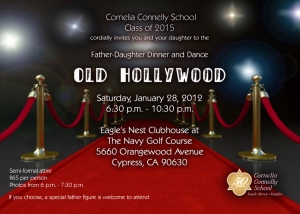 Father Daughter Dance - RSVP by January 20
Tickets are on sale now for the Father-Daughter Dance. The dance will be held on January 28th at 6:30 p.m., at the Eagle's Nest Clubhouse, at the Navy Golf Course in Cypress. Tickets are $65 per person. Photos will be taken at the event from 6 to 7:30 p.m. Tickets must be purchased by January 20. Students, your father could be crowned King of the Dance. Your essays to nominate your father are due to the front office by Friday, January 13.

Your daughter could win an iPad2!
If your daughter refers a student to Connelly and she takes the January 21 Entrance Exam, your daughter's name will be entered into a drawing to win an iPad2. Get multiple students to take the exam and get multiple chances to win! Please share this Admissions Brochure with a family you know from church, work, your neighborhood or former middle school. Invite her to shadow your daughter at Connelly for a day. Be sure and ask the student to return this Discover Connelly Card (and tell her to let us know she heard about Connelly FROM YOU). If you know someone who would like to register for the Entrance Exam on January 21, please ask them to fill out the Entrance Exam Registration Form.

Garden news
January 21 is the next Garden Day, where we need lots of help with the major annual pruning of the 80 roses on campus, and some other shrubs, as well as handling the general maintenance of all the 45 garden areas. On the February 4 Garden Day, we will start planting some spring annuals.

Please note that March 10 Garden Day will include the annual Plant Silent Auction and Luncheon 11 a.m. to 1:30 p.m., following gardening from 8 to 11 a.m. **Note this change (from April) on your calendar. The atmosphere of the Connelly campus truly illustrates the quotation "One who plantsa garden, plants happiness."

Apply now for financial assistance for the 2012-2013 Connelly school year - applications are due February 10, 2012
Families interested in applying for tuition assistance may apply online now. Please click on this link Financial Assistance Flier for instructions on applying online. In an effort to go green, no paper applications will be available. Tuition assistance applications are due Friday, February 10, 2012. If you received tuition assistance this year, you must submit another tuition assistance application in order to qualify for aid for the 2012-2013 school year. Please contact Mrs. Abby Knight in the Admissions Office at 714-776-1717 Ext. 234.

Yearbook




Grad ads are available now. Parents of seniors are invited to make your daughter's graduation special with an ad in her honor. To request your ad, please contact Mrs. Tormey at [email protected], or click the banner ad above to get more information including rates and due dates.

Connelly gear for your Connelly Girl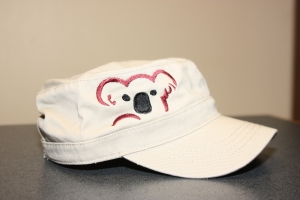 We have a wonderful selection of Connelly Spiritwear for the whole family. Shop via the Connelly Web site on the Spiritwear page and your order can be picked up at the school or mailed to you (mailing fees apply). Choose from stickers, license plates, hats and T-shirts, sweatshirts, koalas, scarves, bags and Christmas ornaments. Prices range from under $5 to $45.

Shop for books, games, puzzles & music and help Connelly at the same time!
S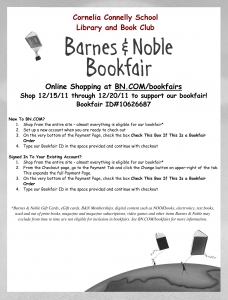 hop online at the Barnes & Noble Bookfair BN.com/bookfairs
December 15 - 20 to support Connelly
Bookfair ID #10626687




Or, shop in person at ANY Barnes & Noble in the U.S. on Thursday, December 15 and
remember to take this flier.
(Local stores: Fullerton, Long Beach & Huntington Beach)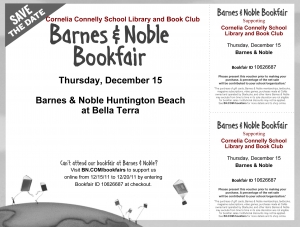 Tell your friends and family.

Congratulations to Connelly's Advanced Handbell Ensemble
The group performed Friday, December 2 in the Seal Beach Christmas Parade.

Congratulations to the Connelly students who made the winter sports teams.
Varsity Basketball: Gabby Alcaraz, Valerie Alcaraz, Leilah Ali, Medina Ali, Sarah Bomwell, Rachel Curtin, Emilee Friend, Eibhlin Kay, Megan Marrujo, Kassandra Mier, Kassie Orate and Tran Truong.

Varsity Soccer: Janan Abdelmuti, Hazel Aguliar, Rebecca Brunter, Hannah Demetor, Katie Evans, Jessica Kuiper, Britani Letcher, Christina Madrigal, Michelle Manning, Vivianne Mitri, Iztaccihuatl Olivares, Helen Pauly, Maria Pauly, Laura Perez, Alexandra Saavedra, Tessa Rodriguez, Imani Smith and Nikki Yost. Manager: Janine Abdelmuti.

(Posted: November 28, 2011)

Please keep the Registrar informed
Connelly parents are asked to please notify the Registrar, Mrs. Taylor, if your daughter is to be absent for any reason this week. Please contact the office prior to 8 a.m. each day. You may phone 714-776-1717 or email Mrs. Taylor at [email protected]. Thank you.

Connelly Volleyball in first round of State Finals
Connelly's Volleyball team is the runner up in the Southern Section Finals. This is Connelly's fifth visit to the finals in six years. Connelly's Koalas have taken the CIF title four years in six (four consecutive years).
Connelly will play La Jolla Country Day School on Tuesday, November 22 at 7 p.m. in the first round of the state finals.

Connelly Volleyball makes it to the CIF finals!
Congratulations Connelly: Connelly's Volleyball team will play Hemet High School on Saturday, November 19 @ 1 p.m. in Gym 1 at Cypress College ( 9200 Valley View Street, Cypress, 90630) in the CIF Southern Section Finals. This is Connelly's fifth visit to the finals in six years. Connelly's Koalas have taken the CIF titles four years in a row.

Congratulations to the following Connelly athletes on their achievements
Cross Country: Laura Yu '13 earned First Team All League.
Tennis: Alexine Gallagher '12 made first team all league. Kristin Obligacion '12 made first team all league. Sophia Zarders '12 made second team all league. Alexandra Lopez '12 received an honorable mention. Coach Jason Manley won Coach of the Year.
Congratulations to Connelly's Cross Country, Golf, Tennis and Volleyball teams. All four of Connelly's fall sports made it to the CIF playoffs. Connelly's JV Cross Country team won the San Joaquin League title.
Monday, November 7 @ 1:30 p.m.: Tennis League Finals @ La Habra Tennis Center
Tuesday, November 8 @ 7 p.m.: Volleyball first round of playoffs @ San Jacinto High School
Tuesday, November 8 @ 2 p.m.: Tennis, first round of playoffs @ Duarte High School
Thursday, November 10 @ 7 p.m.: Volleyball, second round of playoffs @ American Sports Center.
Saturday, November 12 @ 1:08 p.m.: Cross Country CIF team meet @ Mount San Antonio College
Saturday, November 12 @ 7 p.m.: Volleyball plays in the quarter finals at American Sports Center.
* Connelly's JV Cross Country team won the San Joaquin League title.
Tickets available for the Nov. 4 Servite vs Mater Dei game @ Angels Stadium
This is a CASH ONLY purchase.
Tickets may be purchased from the SERVITE Business Office
Thurs., Oct. 27 General Public 9 a.m. - 6 p.m.
Mon., Oct. 31 General Public 9 a.m. - 6 p.m.
Tues., Nov. 1 General Public 9 a.m. - 3 p.m.
Wed., Nov. 2 General Public 9 a.m. - 3 p.m.
Reserved tickets are $15 each
Student tickets are $5 each
General admission tickets will be sold after all reserve tickets are sold. General admission tickets are $10 each.
Students do not get in free at this game.
There are no senior or child prices.
Spread the word about two events at Connelly for middle school students
Don't miss Connelly's annual Leadership Conference on October 29. Student councils, clubs and all middle school students are invited to attend and build their leadership skills. Tell YOUR former middle school teachers. Pass along this Leadership Conference Flier & Registration.
Connelly will host Koala Bowl 2011 on Thursday, November 3 at 3 p.m. Students in 6th, 7th and 8th grade are invited to attend and test their skills in academic knowledge and fun & challenging games. Tell YOUR former middle school teachers. Pass along this Koala Bowl Flier & Registration Form.

You CAN make a difference at Connelly
Please bring canned food or non-perishable food items to Connelly November 1-4 to assist Second Harvest Food Bank of Orange County in feeding Orange County's homeless and hungry families. Students who donate at least two cans of food during the November 1-4 food drive will receive 1 hour of community service credit (your community service form must be completed and signed in order to receive credit). For more information about this program, please contact Mrs. Fitzsimmons at [email protected] or Ext. 227.
Congratulations to Connelly's fall athletic teams for 2011-2012
Golf : Medina Ali, Emilee Friend, Christina Madrigal, Molly Pascale, Emily Rea, Kimberly Silvestre and Gabby Taylor.

Tennis: Gabriella Alcaraz, Alexine Gallagher, Cassidy Halford, Arfa Khan, Christine Lim, Alex Lopez, Natalie Mirand, Regina Nam, Christine Nguyen, Kristin Obligacion, Nicole Schoenborn, Angelica Sunga, Julia Zamora and Sophia Zarders.

Volleyball: Valerie Alcaraz, Haylie Butler, Grace Cuevas, Marissa Driggs, Courtney Hawkins, Stephanie Maddox, Megan Marrujo, Taylor Medina, Belinda Mullally, Andrea Murillo, Liana Rizkalla, Emily Rosales, Rebecca Shea, Zoe Stanley, Jenna Wilson and Nicole Yost.
Cross Country: Hazel Aguilar, Brianna Becerra, Selina Bernal, Erynn Clark, Emily Dubelbeiss, Katie Evans, Angelica Garcia, Mia Kim, Madeline Lontok, Rebecca Michael, Nicole Mirand, Vivianne Mitri, Kaitlin Pyne, Emily Reid and Laura Yu.
Cheer: Taylor Alcaraz, Raynee Dulac, Chanel Castaneda, Amelie Garcia, Emily Giles, Anna Huynh, Emily Reid, Alyssabeth Reyes, Stefanie Rodriguez and Haley Wilson.

Consider the Holy Child Exchange Program
This information is for sophomores and juniors who are interested in the Holy Child exchange program with our school in Killiney, Ireland. If you are interested in traveling to Ireland to study in February or March 2012 AND hosting Irish students who will study at Connelly in October 2011 please call or email Ms. Ernest as soon as possible. Click here to review and print The Holy Child Exchange Program Application. Please contact Ms. Ernest at [email protected] or 714-776-1717 with questions. You may return the completed application to Ms. Ernest.
Summer reading assignments posted on Connelly Web site
Connelly faculty members have provided summer reading assignments for students in the 2011-2012 school year. Please go to the Summer Reading page in the Academics section of the Connelly Web site to view the assignments.
Second tryout set for Cheerleading and Song on June 7
A Cheer and Song clinic will be held June 6, and tryouts will follow on June 7, from 3:30 to 5:30 p.m. Attendance at the clinic is mandatory for tryouts. Click here to read the Cheer and Song Tryout Flier.
Register by June 11 for ballet auditions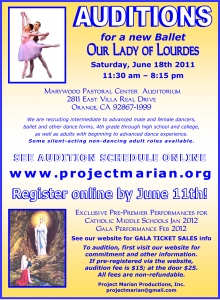 Cornelia Connelly School students are invited to audition for a New Libretto Ballet, "Our Lady of Lourdes," which will perform at Catholic middle schools in January 2012. A gala performance will be held at Marywood Pastoral Center Auditorium in February 2012 and tickets will be available to the general public.
About 70 dancers will be selected. Auditions are open to experienced dancers in fourth grade through high school and college. Adult dancers with beginning to advanced dance experience also may audition. For more information, click on the flier posted at the right.
To audition, you must first register online by June 11.
To view the audition schedule and register, please go to www.projectmarian.org. If you preregister via the Web site, the audition fee is $15. The fee is $25 at the door, if you do not register in advance. All fees are nonrefundable. For more information, please contact Adrianne Witthoeft at [email protected]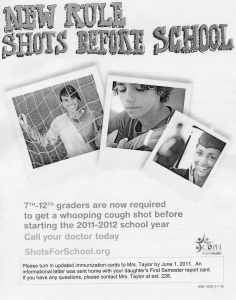 Immunizations required for all Connelly students
All California students entering 9th through 12th grades in the 2011-2012 school year MUST be immunized with the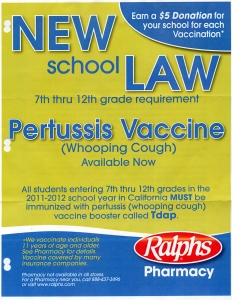 pertussis (whooping cough) vaccine booster called Tdap. Click here to read the Vaccine Information Flier.
Ralphs Pharmacies offer this vaccine and will donate $5 to Connelly for each pertussis vaccine that his purchased there. The Ralphs Pharmacy vaccinates individuals 11 years and older. The pharmacy is not available in all stores. For a Ralphs Pharmacy near you, call 888-437-3496 or visit http://www.ralphs.com. Click here to view the Ralphs Pharmacy Flier.
Recital cancelled
The may 17th recital has been cancelled (as of May 10).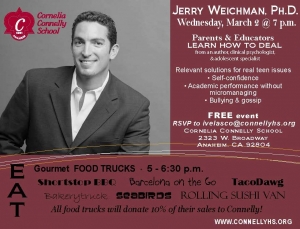 Connelly hosts Speaker Jerry Weichman, Ph.D. & OC's gourmet food trucks

Join us March 2
Gourmet food trucks from 5-6:30 p.m.
Jerry Weichman, Ph.D. speaks at 7 p.m.
RSVP to [email protected]

Parents and Educators
LEARN HOW TO DEAL

Jerry Weichman, PhD.
speaks about teen issues:
- Self-confidence
- Academic performance
- Bullying & gossip

Gourmet Food Trucks: 10% of your purchase at this event is donated to Cornelia Connelly School. Most menu items range from $4 to $7 and include sushi, BBQ tri-tip, specialty hot dogs, vegetarian tacos and sweet potato fries, cupcakes and frozen yogurt. Click on the Web links below to see their menus.

Review PSAT scores on January 11 at 6 p.m. in Alumnae HallParents and students, please join us in Alumnae Hall at 6 p.m. on January 11. Revolution Prep will host an evening to explain and review of PSAT scores. For more information, please call College Counselor Andrea Velasquez at 714-776-1717 Ext. 222 or email her at [email protected].

Progress Reports posted on Edline

Teachers have posted your daughter's progress report for all your daughter's classes. Please be sure to check these on Edline. I remind you that students earning a C- or below in any course are required to report for tutoring during the Conference block of time at the end of the day. In addition to her teachers, students in the National Honor Society are available as tutors.

Do not hesitate to be in direct contact with your daughter's teachers as needed.

Thank you for your attention.

- Mrs. Serrano, Assistant Head of School

CIF Championship: Servite vs. Mission Viejo - December 11 @ 7:30 p.m.
Tickets are available at the Servite Business Office (next to the main office)
Tuesday - Thursday 9 a.m. - 4 p.m.
Friday 9 a.m. - 11 a.m. Prices: CASH ONLY
Reserved tickets (clubs and view only) $15
Student tickets $5
General (field, terrace and view levels) $12
Child General (field, terrace, view) $5
We are required to sell all reserved seats before we sell any general tickets.
Tickets are available at Anaheim Stadium all week, during their box office hours. They only have general tickets.

Tailgating is allowed, but no alcohol is allowed. The parking is $10 for each spot you use. The parking lot will open at 11:30 a.m. for the game before ours.

The ticket booth opens at 6 p.m. the day of the game. The gates to the stadium will open at 6 p.m. also.
Book Buyback day is Friday, June 3 in Alumnae Hall, 10:30 a.m. to 3:30 p.m.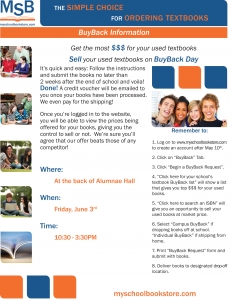 Click here to read the Book Buyback Day flier with all the information on how to prepare your books
for resale. Click here to read the BuyBack list of books - a myschoolbookstore.com-provided list of books which the company will purchase back, including prices. The Web site also offers a list of Connelly's textbooks which the company will buy back and the list shows the amount offered for each used book. Damaged books or excessively highlighted books will not be accepted back.
To start the resale process:
Please go to www.myschoolbookstore.com and click the BuyBack tab to begin your BuyBack request. You may select "Campus BuyBack" if you're dropping your books off at school on June 3 (10:30 a.m. to 3:30 p.m. on this date only), or "Individual BuyBack" if you're planning to ship them from home. Books must be submitted no later than 2 weeks after the end of school. You will need to print the completed BuyBack Request to submit with your books.

Gardening Days set through summer
Join us for gardening days on campus:

Purchase a GRAD AD to congratulate your favorite Connelly Senior


Now is the time to purchase your Senior's Grad Ad! Don't miss this great opportunity to congratulate your daughter for her accomplishments by placing an ad in the Cornelia Connelly High School Yearbook.
Two easy ways to buy your student's ad:
1. At school: Pay with cash, check or money order. See Ms. Tormey.
2. Online: Pay by credit card or check at www.yearbookforever.com/corneliaconnellyhighkoalas/ads.
Grad Ad prices are:
- Full Page: $285
- Half Page: $230
- Quarter Page: $185
Don't wait - space is limited and ad sales end in February.
These are the days your Koala will want to remember forever. Buy her a congratulatory ad today!
College Financial Planning Night is available by Webcast on November 11
The persentation will go live at 7 p.m., November 11, 2010. If you are unable to watch during that time you may access the presentation at a later date as well. Please go to www.getcollegefunding.org/tv to access the Webcast.

Connelly Junior launches canned food drive to culminate at Mater Dei v Servite game Oct. 29
Connelly Junior Alexine Gallagher is leading a canned food drive for Second Harvest Food Bank, Orange County again this year. It will culminate with a collection at the Mater Dei v Servite football game on Oct. 29. Barrels are on the Connelly, Rosary, Servite and Mater Dei campuses for canned food collections.
Last year, Alexine organized the drive that collected 316 pounds of canned food for the Irvine-based assistance organization. Alexine said she doesn't have a specific goal, but would like to exceed last year's donations. The Connelly Family of students, faculty, staff and supporters is encouraged to donate canned food to help feed Orange County's hungry and impoverished families. Additional collection barrels and a large truck will be at Angel's Stadium for the Oct. 29 game, Alexine said.
According to Second Harvest Food Bank 1 in 6 Orange County residents is at risk of hunger. The increased unemployment rate means more families are struggling. More than a third of those at-risk of hunger in Orange County are children. Children account for 35% of the 615,000 individuals in Orange County that have to worry about going to bed hungry.
For more information about Second Harvest Food Bank, Orange County and stories about real families that YOU can help with your donation, go to http://feedoc.org/WhoWeHelp/Hunger101.aspx
Connelly students' volunteerism featured on the Holy Child Schools Web site
Click here http://www.holychildschools.org/hcn.nsf/pages/servicein to read the spotlight on Cornelia Connelly School students and how they made a difference this summer volunteering, teaching English, building, mentoring, and representing their school and their cities. The article also mentions the Connelly community's recent rally to send volleyballs to alumna Liz Lizzari '05 in Afghanistan, and how students participate in many annual events to help others in their surrounding communities. (The article will be posted through Nov. 9.)

Josten's schedule announced
Parents, please review the Josten's schedule and make note of when the company's representatives will be on campus to assist with class ring and graduation announcements.
PARENT MEETINGS THIS WEEK
Senior parents meet Aug. 24 at 7 p.m.
Junior parents meet Aug. 25 at 7 p.m.
Sophomore parents meet Aug. 31 at 7 p.m.

WHAT'S FOR DINNER? We've got an idea for you...
Eat at Ruby's in Anaheim (1128 W. Lincoln Ave., Anaheim,CA 92805) May 17-20 and Ruby's will donate 20% of your tab to Connelly's Music Program. That's right, eat at Ruby's anytime - day or night - Monday through Thursday (this week only) and you'll help Connelly too! It's just that easy! Please PRINT THIS FLIER, give it to everyone you know, and TAKE THIS FLIER WITH YOU when you dine at Ruby's anytime between 7 a.m. and 9 p.m. May 17-20. Did we mention you have FOUR DAYS to choose from?

RSVP NOW FOR THE SENIOR FAMILY DINNER - June 9
Please RSVP for the 6 p.m. dinner at the Doubletree Guest Suites in Anaheim by Monday, May 31. Tickets are $50 per person. The Senior Family Dinner is a dinner and reception hosted by the juniors and their parents for the graduating seniors and their families. As part of the preparations, we're asking each senior to submit four photos.
Please submit:
1) A non-nude baby picture
2) An elementary school picture
3) A current picture
4) A group shot of your daughter and her Connelly friends
Please email the pictures to [email protected] as soon as possible. In the subject line of your email, please put "CCS Pictures (Your daughter's name)." Hard copies or discs of photos will be accepted, if necessary, though email is preferred. Please be sure to put your name on them and submit them to the school office. Please contact Aykesha Walker at (714) 776-1717, ext. 248 if you have any questions.

PRE-SALE FOR THE BEST PRICE ON THE GRADUATION DVD
An experienced videographer is filming graduation and editing it with titles and music. It will be like a professional wedding DVD. The cost is $50 and the payment is due to Mrs. Anderson by Monday, May 17. The price increases after May 17. A flier was mailed to you last week. In order to obtain the videographer's services, we must have at least 30 families participating. You may purchase your DVD online at http://www.thevideoman.com/connelly2010.shtml. For more information, please contact Mrs. Anderson at [email protected].

CHEER TRYOUTS - Mandatory May 11 meeting
If you plan to tryout for the Cheer squad, please attend the May 11 mandatory meeting at 6 p.m. in alumnae and bring your parent. Try out clinics follow from 3:30 to 5:30 on May 24, 25, and 26. Students can learn jumps, dance and cheer moves at these clinics before tryouts. The tryouts will be held Thursday, May 27 at 3:30 p.m.
JAMBA JUICE FUNDRAISER - orders due by May 14; delivered May 21
The Connelly Parents Association is selling Jamba Juice as a fundraiser for the school. Please fill out THIS FORM with your advance order and return it in a sealed envelope to the front office by Friday, May 14. Cash please; no checks will be accepted. You may purchase:
Mega Mango 12 oz $3.25
Peach Perfection 12 oz $3.25
Strawberry Whirl 12 oz $3.25
If you have questions, please call Mrs. Velasco at 714-776-1717 Ext. 221.
NEED UNIFORMS FOR NEXT YEAR?
Vicki Marsha will be in Alumnae Hall Monday, May 17 and Wednesday, May 19, 3:15 to 6 p.m. for uniform ordering and fitting.
GIVE BLOOD - SAVE LIVES!
Cornelia Connelly School will host the Red Cross on May 25 for a blood drive. The Connelly Community is invited to donate blood from 8 a.m. to 2 p.m. Appointments are not necessary, but are encouraged for parents. One pint of blood can save three lives! For more information about this event, contact Evelyn Dinnen at [email protected] Alumnae, please contact Cerise Metzger at [email protected]
POPS CONCERT - May 25
Please join us at the Connelly Pops Concert, May 25 at 7 p.m. at Servite. More than 75 Connelly students will perform in Connelly's internationally renowned choir and handbells ensembles. The night's collection of songs includes tunes from: Star Wars, Sister Act, Pirates of the Caribbean, Jurassic Park, The Wizard of Oz, The First Wives Club and Willy Wonka and the Chocolate Factory. Tickets are $10 for general admission and $5 for students. For more information about the concert, call 714-776-1717.
USED BOOK BUY-BACK - June 10
Sell your textbooks back to myschoolbookstore.com on Buy-Back Day, June 10. ASB will collect books at Connelly on June 10 from 10:30 a.m. to 3:30 p.m. Please speak to librarian Mrs. Daugherty for details.
SUMMER ENRICHMENT PROGRAM - June 21-25
Do you know a 6th or 7th grade girl looking for a summer program?
Connelly will host 6th and 7th-grade girls at its Summer Enrichment Program June 21-25. Girls can have the Connelly Experience and take classes in English, science, math, religion, art and Spanish and learn about the transition to high school. For more information about the Summer Enrichment Program, call Connelly Admissions at 714-776-1717 Ext. 234.
Senior Maya Karon wins title at statewide thespian festival
Maya Karon '10 and members of the Tri-School Theatre attended the California State Thespian Festival March 26-28 at the Ontario Convention Center. Students competed and earned many awards and honors at the festival of more than 1,000 students. Karon was selected for All State Tech Crew for scenic painting and named as Outstanding Technician.

Girls Athletic Association Banquet set for May 12
The banquet will be held in the Connelly Auditorium at 6 p.m., May 12. Tickets are $10 per person and $5 for anyone 5 years and younger. Your RSVP and payment are due to Mrs. Henry by May 7, please.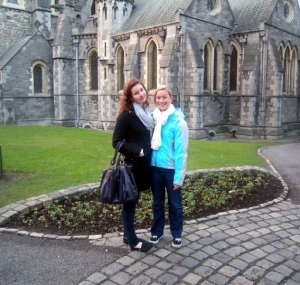 Connelly students share the Holy Child experience in Killiney, Ireland
Sophomores Emily Dubelbeiss and Catherine Wippler spent seven weeks studying at Holy Child School in Ireland, as part of the Holy Child Network of Schools exchange program. The girls wrote home to chronicle their experience in Ireland. Read all about it at http://www.connellyhs.org/page/5820.

Connelly students' art in exhibit at Laguna College of Art and Design
Fourteen pieces of art by 13 Connelly students were featured in "Color it Orange" - a prestigious, countywide art exhibit organized by the Designing Women of Laguna. The students' work was selected from thousands submitted for the competition. Their art was displayed at the Laguna College of Art and Design March 14-21. Congratulations to Rebecca Brunter '12, Hayley Byk '12, Marisa Castaneda-Garcia '12 (2 pieces), Sierra Christy '12, Hannah Dementor '12, Vanessa Hernandez '12, Caroline Hiatt '12, Brenna Mullally '12, Monica Nguyen '10, Marissa Ortiz '12, Andrea Rodriguez '12, Molly Schaefer '12, and Jasmine Sturr '12.
Connelly Science Fair Winners Announced February 23
1st Place Physics - Maya Karon
1st Place Chemistry - Rebecca Brunter
1st Place Botany Applications - Madeline Nolde
1st Place Zoology - a tie between Cassandra Stambuk and Cecilia Becker
Most Original Project - Audrey De Los Reyes
Best Display - Liana Rizkalla
Honorable Mentions:
Physics - Katherine Breiding
Physics - Nicole Yost
Chemistry - Rebecca Dizon and Catherine Wippler
Chemistry - Kristin Obligacion

Community Compassion CONNELLY
Connelly's students continue to reach out and help others
Students raised $545.50 for the Leukemia and Lymphoma Society's Pennies for Patients program. Connelly rallied in groups by graduating year to compete in Penny Wars. Each grade level gathered money in large jugs. The entire proceeds were donated.

Each grade level put pennies in a jug marked with their year, but other classes were allowed to put silver coins or bills into those jugs to cancel out the cash equivalent in pennies collected. All four classes succeeded in cancelling the pennies collected and all four classes ended with negative balances - collect more cash and silver coin than pennies. The Senior class won with the least negative total of $65.95.
Congratulations students
Click here to see the First Semester Honor Roll for 2009-2010.

Saron Shiferaw '10 and Rachel Michael '10 are Connelly's nominees for the National Honor Society 2010 Scholarship. They were chose to represent Connelly as models of high academic achievement and service to school and community.

News from the Garden Guardians
It's been a nice wet month since the last Garden Day, and the plants and weeds are growing vigorously. Come help us from 8 to 11 a.m. March 20 to get the garden tuned up for spring. We invite you to stay for the Garden Volunteer Appreciation Luncheon and Orchid and Plant Sale 11 a.m. - 1 p.m. We especially invite the 19 generous families who have adopted garden areas and cared for them all year. This is an opportune time to come out and show them off!

We welcome your donations of plants, gift cards, and garden decorations for our popular silent auction. Proceeds go toward new garden projects in August 2010. Please bring donations to school by Wednesday, March 17.
10-9-09 A letter from the Head of School regarding influenza
Parents, We need your help to contain the flue virus and prevent infecting others. Please read the 10-9-09 letter from Sr. Francine Gunther regarding using your good judgment in keeping your daughter and those around her healthy. Click here for the letter.