Marissa Driggs '13 and Dana Fish '13 spent seven weeks in the spring of 2011 studying at Holy Child School in Killiney, Ireland as part of the Holy Child Network of Schools exchange program.

The girls applied for the opportunity to travel abroad and stay with host families whose daughters attend the school. Dana sent frequent emails about her stay. Their commute was by DART, or public transportation. She wrote the following about her first full day of school.

"We took Irish, physics, English, religion and music. We met many new and exciting people. They were all very welcoming and seem to enjoy talking and making friends. After school, there was a hockey match - the biggest one of the season. Lottie (the student in the girls' host family) played. She scored a goal. Afterward, I went to a recital with Lottie, where she played the violin."

Marissa blogged about her experience at http://www.mdriggsinireland.blogspot.com/. She wrote that Ireland smells of the sea and the school is a two-minute walk from a rocky beach, a beach she can see from most classrooms where students watch "the sun rising above the gray, choppy Irish Sea."

The girls attended dance and music recitals, and plays. They saw cathedrals and museums also. They made many friends, including Mina, an exchange student from Japan. Five of the Holy Child School students stayed with Connelly families and attend Connelly classes in May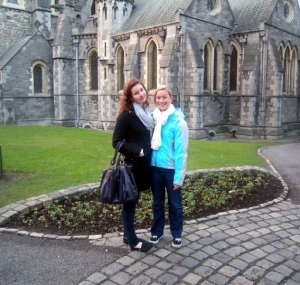 .
Emily Dubelbeiss '12 and Catherine Wippler '12 studied at Holy Child School in Ireland for seven weeks in spring 2010, as part of the Holy Child Network of Schools exchange program.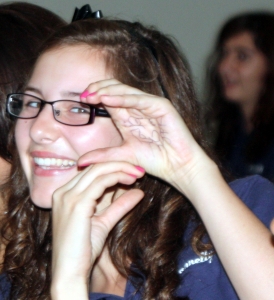 The girls emailed their parents and Connelly frequently and Emily launched a blog to document her daily experiences including waking to snow, meeting new friends and visiting historic cathedrals and their new affections for cooking, tea, and front-door delivery of milk for "breky."

The girls stayed with a host family while attending daily classes including Spanish, math, religion and classical studies. "We absolutely love it here," wrote Emily. "This town is so quaint and the family is so welcoming."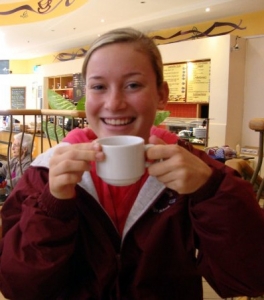 Catherine said she and Emily enjoyed the work experience required during their studies. The girls worked for a week at Radio Na Life in Dublin City making a radio program and a short film, in Irish - through a translator. "The weather has been very cold here, but I am having so much fun and learning so much about Ireland," wrote Catherine. "The landscape is so beautiful and every day is fun and exciting."


The girls toured the St. Patrick's Cathedral, which they described as "colossal and breathtakingly beautiful," and Christ Church Cathedral. They attended a rugby match and visited The National Gallery of Ireland where the art was striking and "some of the pieces held very strong messages," said Catherine.

Emily's blog is at www.tonightismygifttoyou.tumblr.com.
Catherine's notes home....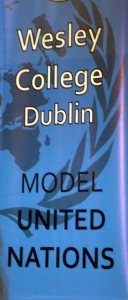 Week of February 22
All week Emily and I were preparing for a Model United Nations conference that we were participating in. We were part of a six-person team representing Holy Child Killiney. We were assigned to represent the country of Bolivia and I was on the Human Rights committee. The specific areas that I had to debate were religious indoctrination, state access to personal information, and torture. As part of the debate we had to lobby resolutions based on our countries views as well as add amendments to the existing policy and debate them further. It was very interesting to see the resolutions that people came up with and the different perspectives of other countries. We also had a general assembly meeting with everyone where we debated democracy and also an emergency situation that was presented to us. We were given time to socialize with all of the other delegates after the event and Emily and I made a lot of new friends. The M.U.N. conference was a lot of fun as well as a very interesting and informative experience.

Week of March 1
Monday was very special because we had an outdoor pursuits class in the afternoon. Outdoor pursuits includes horseback riding, roc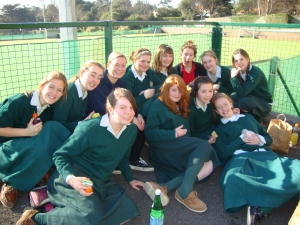 k climbing and sailing. On Monday we went with our class to do some rock climbing and abseiling! During the class, right before lunch, we all got changed and then walked to the Dalkey quarry where we began our adventure. We got suited up in harnesses and helmets and then made our way to the edge of the quarry. We started off with abseiling, which is basically rappelling down the rock face. I went first and it was a lot of fun!! The rock face was 24 meters and it was strange to walk backward over the edge of the rock face. Once I reached the bottom, I cheered the other girls on and headed over to the climbing portion. There were two different climbs that we could do and I ended up doing both of them. I also did safety for some of the girls and cheered on everyone else as they climbed. Then we all walked back to the school and took lots of photos on the way.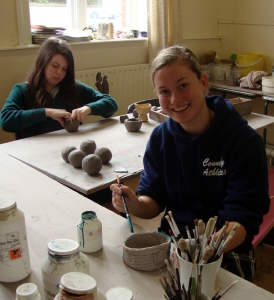 Tuesday was very exciting because Emily and I had pottery and we got to throw pots on the wheel and paint some of our other creations. It was a lot of fun to throw the clay, but it was a lot more difficult then Emily and I had first anticipated. We had fun and ended up covered in clay by the time we were done. Emily and I also are in the midst of doing our art projects which are imitation stained-glass windows depicting the story of Saint Patrick. We are very excited for Friday because we are going with friends to the beach for a polar bear swim. It is sure to be very cold and we will all turn very blue by the end but I am sure the pictures will be hilarious. The weather out here is very cold but it hasn't been raining at all and is very nice otherwise. Emily and I are having so much fun and are both very sad that our exchange is nearing its end!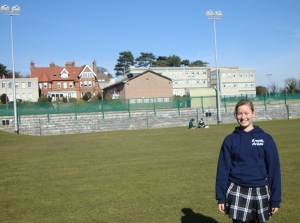 Week of March 8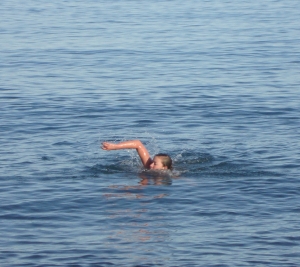 Emily and I have been very busy lately, doing all that we can before our trip ends. We had another work experience week for the fourth-year students and we did our work at the school, helping with parent teacher conferences, in the P.E. department and any other odd jobs that needed to be done. Over the weekend we went into Dublin City and showed Emily's parents around and also hung out with our friends from school and from M.U.N. Today was also a very exciting day because Emily and I had outdoor pursuits class again which meant that we got to go rockclimbing!! It was really fun and all of the girls had a blast. Emily and I are also getting ready for St. Patrick's Day which is going to be a lot of fun. We are going to dress up and go into Dublin City with our friends to see the parade. We are also studying for the tests that we need to take before we leave. I am really sad that our exchange is ending so soon, but we are making sure that a lot of the girls come out and visit us.