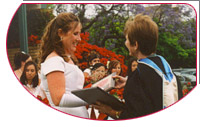 Who was Cornelia Connelly?
Cornelia Connelly founded the Society of the Holy Child Jesus in 1846 for the purpose of educating young women. Her philosophy of trust, reverence and respect for the uniqueness of each person continues today in the Holy Child Network of Schools worldwide.
Is Connelly a Diocesan school?
No. Connelly is an Independent Catholic school within the Diocese of Orange. In fact, Connelly is one of ten Holy Child schools in the U.S. The Sisters of the Holy Child Jesus have also founded schools in England, Ireland and Africa.
What is Connelly's relationship with other Holy Child schools?
Besides sharing a unique philosophy of education and spirituality, another aspect of this shared relationship allows students to participate in the Holy Child Exchange Program. Within the past two years, Connelly students have spent part of the school year at Holy CHild schools in New Jersey, New York, Maryland, and Ireland.

How long has Connelly been in Anaheim?
Connelly was established in 1961, making it the oldest Catholic high school for girls in Orange County.
How many students are enrolled?
A small school by design, Connelly's current enrollment is 300 girls. Connelly's maximum enrollment is 340 students.
What is the average class size?
18 girls per class is the average, giving students much needed one-on-one interaction with their teachers. In this atmosphere, students learn to "hear their own voice," developing both confidence and academic skills.

What is the college acceptance rate of Connelly's Graduates?
100% of the graduates who apply are accepted to college. Most attend four-year schools.
What colleges do Connelly graduates attend?
Connelly graduates attend both public and private colleges and universities throughout the country. A list of college acceptances for our graduates can be found on this website or in our "School Profile," on our website at www.connellyhs.org.

What activities are available for students?
Connelly students have a wide range of clubs and activities available. Some clubs focus on community service, while others focus on students' special interests. Activities range from Connelly traditions such as Spirit Week and Class Plays, to co-curricular events and dances with students from our brother school Servite, also located in Anaheim. Additionally, students can participate in Mock Trial, National Honor Society (NHS), Model United Nations (MUN), Peer Assistance Leadership (PAL), as well as Associated Student Body (ASB). Juniors and Seniors may have the opportunity to take a Close Up trip to Washington D.C. where students from around the nation meet for a conference and observe our nation's government in action. International trips are also available each year, including Japan, Argentina, and more. Connelly also has Cheer squad that cheers for both Connelly and Servite athletes.

Does Connelly have a competitive athletic program?
Yes! Connelly's sports teams compete in the San Joaquin league. Our sports roster includes tennis, golf, volleyball, cross-country, soccer, basketball, softball, track and field, swimming and water polo. Many Connelly athletes receive sports scholarships to colleges around the country.
Are fine Arts courses available?
In addition to the Visual and Performing Arts classes offered at Connelly, our students may also participate in the award-winning Tri- School Theatre with our brother school Servite, and the Diocesan girls' school, Rosary. Last summer, Connelly was excited to send its Advanced Choir to Italy to sing at masses from Milan to Rome, including an audience with Pope Benedict XVI at the Vatican. In July, 2008, the Advanced Women's Ensemble performed at the Olympic Festival in Beijing, China.
Is there much diversity among Connelly's students?
The Connelly community truly reflects the area in which we live. Our student body is 36% Caucasian; 21% Latina; 11% Asian; 7% Multi-Ethnic; 10% Pacific Islander (native Hawaiian/Filipino); 6% Not Stated; 6% Middle Eastern; 2% African American and 1% Native American. Additionally, though we are a Catholic school, our strong academic program attracts girls from many religious backgrounds, including other Christian denominations, Judaism, Islam, and Buddhism. We are proud of our diversity and feel it makes us a stronger learning community.

Where do most Connelly students live?
Although the majority of our students come from Anaheim and its surrounding communities, many commute from south Orange County, as well as Los Angeles and Riverside Counties. The top cities of residence for Connelly students are Anaheim, Huntington Beach, Garden Grove, Yorba Linda, Santa Ana, Long Beach, Seal Beach and Cypress. Carpooling is an easy way to share the commute to Connelly and meet other members of our school community.
Does Connelly have a dress code?
Connelly students have a variety of uniform choices, including skirts, pants, shorts, many different shirts, sweaters and sweatshirts.
Is an entrance exam required for admission to Connelly?
Yes. Connelly applicants take the High School Placement Test (this test is required at all Orange County Catholic high schools.) ISEE scores are also accepted. Connelly's placement test is on Saturday, January 17, 2009 from 8:30 to 1pm.

Click on this link Entrance Exam Registration Form to download the registration form.
Is tuition assistance available for students?
Yes! Need-based tuition assistance is available to students of all grades. Applications are available at Connelly's Tuition Assistance Information Night on January 8, 2009 or by calling the Admissions Office at 714-776-1717, ext. 234.
Does Connelly offer Merit Scholarships? There are ten different Merit Scholarships available for incoming ninth grade students. Connelly awards 3 four-year Merit Scholarships, as well as scholarships for achievements in Math, Science, English, Performing Arts, Visual Arts, Community Service, and Leadership.
Does Connelly have a shadowing program?
Yes! A prospective student may come alone or with a friend and spend the day with a Connelly 9th grader, attending classes and getting a feel for school life every Tuesday and Thursday, all year long. This is a great opportunity to see what Connelly is "really like" and many schools designate shadowing as an excused absence. An appointment may be scheduled through the Director of Admissions, Abby Vanausdoll, at 714.776.1717, x 234.

What are the requirements for acceptance to Connelly?
Although grades and test scores are important, they are not the only things considered when reviewing candidates for admission. Connelly is looking for motivated students who will both contribute to, and benefit from, being a member of our school community.

TUITION AND SCHOLARSHIPS
Annual Cost 2008-2009
Tuition $11,700 - Scholarships and Tuition Assistance available
Student Life Fee $300
Registration $600
Late Registration $800
Books/Uniforms $500 (approx.)

SCHOLARSHIPS
Connelly High School offers merit-based scholarships to incoming ninth grade students who demonstrate outstanding academic achievements, leadership, community service, and character.
Scholarship Program 2008-2009
In order to qualify for a scholarship, students must submit an Application for Admission to Connelly High School by the "Early Decision" deadline of Friday, January 30, 2009. They must also take the High School Entrance Exam at Connelly on Saturday, January 17, 2009 from 8:30am-1:00pm. Scholarship information packets and eligibility guidelines are available through the Admissions Office.
SAT I Average Scores - Class of 2008
Verbal (Critical

Reading

): 554
Honors Courses
Classes for 2008-2009: Advanced Women's Ensemble, Algebra I, Algebra II/Trigonometry, Biology, Chemistry, English I, English II, English III, French III, Geometry, Government, Physics, Precalculus, Spanish III, and World History
AP Courses
Average AP Exam Grade-2008: 2.931

Classes for 2008-2009: (AP) Biology, Calculus AB, Chemistry, English Literature, French Language, Spanish Language, Studio Art, and U.S. History - 8 Classes
Shadowing
Shadowing appointments can be scheduled at the prospective family's convenience
with Director of Admissions, Abby Vanausdoll, at Ext. 234.