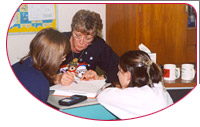 Application Process

We are still accepting applications for the 2008-2009 school year!
Eighth grade students who are applying for admission to Connelly for the following school year must submit a complete application with an application fee of $50.00.

The application must include the following materials:


Application for Admission


Confidential Academic Recommendation


Official 7th and 8th grade transcripts. A request for academic transcripts is included in the admissions packet. Please submit the request form to the applicant's current school.

Click here for information on Early Decision Applications

These application forms are available in PDF format : Application Download
Academic Reference
Request for Transcripts
Early Decision and Scholarship applications are due Friday, January 30, 2009.
Regular Decision and Tuition Assistance applications are due Friday, February 6, 2009.

Early Decision Admissions will be mailed out on Monday, February 23, 2009.
Regular Decision Admissions will be mailed out on Monday, March 9, 2009.





Entrance Exam
Students must also take the Connelly Entrance Exam as part of their application for admission. The Entrance Exam for the 2009-2010 school year will take place on Saturday, January 17, 2009 from 8:30am-1:00pm. Exam registration must be received by Friday, January 16, 2009 with the $40.00 testing fee.

You can download an Entrance Exam Registration Form here.
Entrance Interview
Admissions Interviews for incoming ninth-graders will take place on Saturday, February 7, 2009 from 9:00am --3:00 pm. Please call the Admissions Office to set up your 30-minute interview. To be eligible for an interview on February 7th, all application materials must be received prior to the deadline and the student must have taken the Entrance Exam at Connelly or another valid high school.
Transfer Students
Current high school students wishing to transfer to Connelly must submit a complete application with high school transcripts and attend a scheduled entrance interview with their parent(s) or guardian(s). (Please see above for information regarding the application materials.) If you are considering transferring to Connelly, please call the Admissions Office at (714) 776-1717, ext. 234.

If you have any questions about the admissions process, please contact Connelly School Admissions at 714.776.1717 ext. 234.