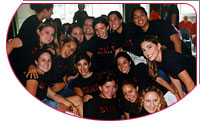 Student Life at Connelly is characterized by a strong sense of Community. The school offers a broad co-curricular component that includes opportunities in the fine and performing arts, student government, clubs, community service, sports, cheerleading and song-leading dance. Activities provide students with the opportunity to build and strengthen friendships and develop self-confidence. Connelly's co-curricular activities empower students to contribute to their school and community life, expand their exposure to other cultures, and discover new strengths and talents within themselves.
Traditions
Connelly traditions are rooted in the 150-year history of the Society of the Holy Child Jesus. They serve as a bond between Connelly's first graduating class of 1965 and today's students. These traditions build class unity while providing each student an opportunity to organize and participate in events that challenge both individual and group creativity.
Big and Little Sisters
In her first year of high school, each ninth grade student is linked with a senior "big sister." Likewise, sophomores have juniors as their Big Sisters. Big Sisters help introduce new students to Connelly by serving as mentor and guide. Throughout the year, big and little sisters participate in a variety of activities together. The girls are partnered up with someone new as their Big and Little Sister at the beginning of each academic year, which fosters even more close-knit relationships among students. The relationships cultivated between Big and Little Sisters often continue long after graduation.

Spirit Week
Held at the beginning of each school year, Spirit Week instills school spirit and class unity. Various activities such as games, dress-up days, and pep rallies are planned throughout the week. Each class chooses a theme and they create posters and dress according to that theme. Seniors, as part of their Senior Privileges, are allowed to spend the night on campus to decorate the school. On Friday, Spirit Week culminates with the annual BEACH DAY. On this day, students and faculty enjoy a fun-filled day at Corona del Mar beach.

Class Plays
Completely student-produced from start to finish, Class plays provide yet another opportunity for students to participate in a collaborative project. Class Plays were initiated in Holy Child Schools over 150 years ago by Cornelia Connelly, and are a highlight of the school year for all students. Each Spring. each of the classes select or write a one-act play and produce it from auditions to performance. Directors and stage managers are elected. auditions are held and sets are built. Rehearsals are conducted behind closed door and the title of the play and identity of its cast members are kept secret until Class Play Day. On this day. each class presents its play to the school community and a panel of professional theatre judges.
Junior Ring Ceremony
One of Connelly's most treasured traditions, the Ring Ceremony, is a very special event for all Junior year students. In a beautiful, candlelit ceremony, the Senior class members present the Juniors with their class rings. After the ceremony, they gather to share memories over dinner.

Graduation
Connelly's elegant graduation is a signature of Holy Child Schools. Wearing a formal white gown and carrying a bouquet of red roses. Family, friends and faculty proudly look on as each graduate receives her diploma.

In addition to an array of school sponsored clubs and activities, Connelly students participate in numerous events throughout the year along with students from our brother and sister schools, Servite and Rosary. These "Tri-School" events offer Connelly students the chance to collaborate with students from other schools when planning major events.
Other Connelly Traditions
Family Gardening Days
Big and Little Sisters
Freshman Retreat
Tri-School Freshman Picnic & Dance
Tri-School Welcome Back Dance
Family Day
Spirit Week/Beach Day
All-School ReadingSt.
Teresa's Day/All School Service Day
Tri-School Homecoming Game & Dance
Junior Ring Ceremony
Koala Bowl
Tri-School Theatre Shows
Grandparents Day
Talent Show
Christmas Service
Father/Daughter Dance
Catholic School's Week
Close-Up Trip to Washington D.C.
Senior KAIROS Retreat
Career Day
Tri-School Winter Formal
Faculty Follies
Religious Education Congress Youth Day (9th Grade)
Connelly Class Plays
Class Retreats (10th & 11th Grades)
Senior Trip to San Francisco
World Cultures Week
Tri-School Sadie Hawkins Dance
Senior Showcase
Mother/Daughter Tea
Portfolio Night (9th Grade)
Tri-School Prom
Senior Prayer Breakfast
Awards Day
New Alumnae Induction
Tri-School Grad Night
Disneyland Grad Night
Baccalaureate Mass
Senior Family Dinner