Parents Association Fundraising                                   Parents Association Information
Special Events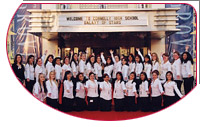 Did you know that the cost of tuition alone does not cover the expense of educating each Cornelia Connelly School student?  As with all independent schools Cornelia Connelly School depends on financial support from all members of our community in order to sustain the extraordinary educational programs offered at Connelly.
As we establish our fundraising goals each year, it is important that all members of our community, current families, alumnae, alum families, special friends, and benefactors, understand how important it is that we achieve a high level of participation and volunteerism. At Connelly High School we know that the success of our development program is only possible through the generosity of donors. Each year, donors contribute to the Annual Giving Program, the Annual Benefit "Galaxy of Stars," the Annual Golf Classic & Spa Day, and other funds for special purposes.
In addition, the school engages in major gift, reunion giving & grant drives to insure funding for capital improvements. 

 Recent Improvements.........
              
              

  Refurbishment of the Karcher Library 
              

  Technology Upgrades (Smartboards) in the classrooms.



 Matthew J. Doyle Center


 Linda Jura Computer Center


 Painting exterior of all campus buildings


 Complete refurbishment of all classrooms


 Central air conditioning/heating


 New lunch tables


 Refurbishing & naming of Alumnae Hall


 Internet accessible computer network with workstations in every classroom & office


Every gift made to Cornelia Connelly School is tax-deductible. As you consider your tax planning, we hope you will consider that your gift can significantly reduce your income taxes, while providing meaningful support for Connelly. No matter your income, if you itemize, you can almost always lower your income taxes through charitable giving. The amount you save depends on your tax bracket.
If you would like to make a contribution to the Annual Giving Program, "Galaxy of Stars" Benefit Auction & Dinner, Golf Classic & Spa Day or a special interest, please contact Aykesha Walker at [email protected] or (714) 776-1717.
Thank you for your support of Cornelia Connelly School!