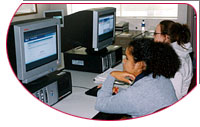 Technology is utilized at Connelly School to enhance the students' learning experience. Each student is provided with a private network account, which provides full access to the Internet as well as private file storage. The curriculum utilizes technology to further reinforce the subject matter and provide real life examples of the principles being studied. Students have access to the Internet in the classrooms, Computer Lab and the Matthew Doyle Center in the Library.

The Computer Lab is open teh following hours:
| | | | | |
| --- | --- | --- | --- | --- |
| Monday | Tuesday | Wednesday | Thursday | Friday |
| Yearbook Class meets at | | Yearbook Class meets at | | Yearbook Class meets at |
The lab is available for students during all morning and lunch breaks throughout the week.
The Doyle Center is open from 7:00 am to 5:00 pm all week.
In addition to courses offered in Technology, the lab is used by the English, Foreign Language, Religion, Math, Science and Social Science departments. These departments utilize software that further inhances the curriculum in their courses.