Services for Dr. Jane DeJovine set for March 26
It is with great sadness and heavy hearts that we send you the news of the death of Dr. Jane DeJovine who passed from this life on March 18. May she rest in peace. Please keep her husband, Dr. James DeJovine, and her two daughters, Morgan and Madeliene, in your thoughts and prayers.

You are invited to attend a Celebration of Life Mass honoring Dr. Jane DeJovine on May 14 at 4 p.m.
Please RSVP by May 6 to Maria Teresa Avila at 714-776-1717 Ext. 216 or [email protected].


Services were held at 11 a.m., Saturday, March 26
at Pope John Paul II Polish Center
3999 Rose Drive, Yorba Linda, CA 92886

In lieu of flowers, the family asks that contributions be sent to Cornelia Connelly School in memory of Dr. Jane DeJovine. Donations may be mailed to Cornelia Connelly School at 2323 W. Broadway, Anaheim, CA 92804.

Share your fond memories of and appreciation for Dr. Jane DeJovine on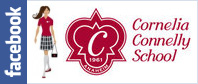 .



Dr. Jane DeJovine joined the Connelly staff as a religious studies teacher in 2003. She and her husband Dr. James DeJovine taught together through 2010. In 2004 the couple was featured in Connelly's yearbook with a Q and A interview about Dr. James DeJovine's battle with multiple myeloma at the time. The yearbook article was titled "Life Changes: An encounter with cancer helps husband and wife discover what's important."
"Has your outlook on life changed," asked the interviewer.
"Oh sure, you feel very thankful that everyone's still here. It's not the little things that bother me...; they're not the big things in my life." - Dr. James DeJovine
"I feel that every day is a blessing, you have to make the most out of every day, and you can't let what isn't important get magnified in your life." - Dr. Jane DeJovine.
Students knew her as Mrs. Dr. Jane DeJovine. Many alumnae reached out when they learned that she was very ill. They spoke of their compassionate teacher who was passionate about her faith. Many alumnae, like Crystal Briones '07, attended Connelly while Dr. Jane DeJovine, herself, fought cancer. Briones visited campus on March 15 to inquire about her former teacher's health.
"Mrs. Dr. DeJovine changed my life," Briones said of her time at Connelly. She called Dr. Jane DeJovine's guidance instrumental and said it made her grateful to know her. "I remember when she took off her wig one day. That was big," said Briones. It was a moving experience, she said, with a teacher whom many say brought life's reality into the classroom.
When a catastrophic 7.0 earthquake struck Haiti in January 2010, Dr. Jane DeJovine and religious studies teacher Kitty Callinan went to each classroom to speak to the students about showing compassion for others. Their candor brought a disaster a world away up close and personal with teenagers who saw photos of girls their age and families just like theirs homeless and bewildered in the aftermath. The students were inspired and the affect rippled through the entire Connelly community, which rallied to raise more than $6,900 to assist the homeless and hungry in Haiti.
Dr. Jane DeJovine was instrumental in bringing author Immaculée Ilibagiza to Connelly, in October 2007, to speak to students about her book Left to Tell: Discovering God Amidst the Rwandan Holocaust. The Connelly community read the book as part of its all-school reading program and Ilibagiza's humility, forgiveness and strength in God touched students emotionally. She personified the school's core values of trust, reverence and respect and Dr. Jane DeJovine was moved that students were so inspired by the author's life lessons.
Dr. Jane DeJovine continued to teach her religious studies classes until December 2010, when she took a medical leave. Her intellectual curiosity and deep spirituality left a profound mark on the Connelly community.