Updated: Tue, Aug 24, 2010 at 02:20:39 PM
Welcome back to school!!!

PARENT MEETINGS THIS WEEK
Senior parents meet Aug. 24 at 7 p.m.
Junior parents meet Aug. 25 at 7 p.m.
Sophomore parents meet Aug. 31 at 7 p.m.

WHAT'S FOR DINNER? We've got an idea for you...
Eat at Ruby's in Anaheim (1128 W. Lincoln Ave., Anaheim,CA 92805) May 17-20 and Ruby's will donate 20% of your tab to Connelly's Music Program. That's right, eat at Ruby's anytime - day or night - Monday through Thursday (this week only) and you'll help Connelly too! It's just that easy! Please PRINT THIS FLIER, give it to everyone you know, and TAKE THIS FLIER WITH YOU when you dine at Ruby's anytime between 7 a.m. and 9 p.m. May 17-20. Did we mention you have FOUR DAYS to choose from?

RSVP NOW FOR THE SENIOR FAMILY DINNER - June 9
Please RSVP for the 6 p.m. dinner at the Doubletree Guest Suites in Anaheim by Monday, May 31. Tickets are $50 per person. The Senior Family Dinner is a dinner and reception hosted by the juniors and their parents for the graduating seniors and their families. As part of the preparations, we're asking each senior to submit four photos.
Please submit:
1) A non-nude baby picture
2) An elementary school picture
3) A current picture
4) A group shot of your daughter and her Connelly friends
Please email the pictures to [email protected] as soon as possible. In the subject line of your email, please put "CCS Pictures (Your daughter's name)." Hard copies or discs of photos will be accepted, if necessary, though email is preferred. Please be sure to put your name on them and submit them to the school office. Please contact Aykesha Walker at (714) 776-1717, ext. 248 if you have any questions.

PRE-SALE FOR THE BEST PRICE ON THE GRADUATION DVD
An experienced videographer is filming graduation and editing it with titles and music. It will be like a professional wedding DVD. The cost is $50 and the payment is due to Mrs. Anderson by Monday, May 17. The price increases after May 17. A flier was mailed to you last week. In order to obtain the videographer's services, we must have at least 30 families participating. You may purchase your DVD online at http://www.thevideoman.com/connelly2010.shtml. For more information, please contact Mrs. Anderson at [email protected].

CHEER TRYOUTS - Mandatory May 11 meeting
If you plan to tryout for the Cheer squad, please attend the May 11 mandatory meeting at 6 p.m. in alumnae and bring your parent. Try out clinics follow from 3:30 to 5:30 on May 24, 25, and 26. Students can learn jumps, dance and cheer moves at these clinics before tryouts. The tryouts will be held Thursday, May 27 at 3:30 p.m.

JAMBA JUICE FUNDRAISER - orders due by May 14; delivered May 21
The Connelly Parents Association is selling Jamba Juice as a fundraiser for the school. Please fill out THIS FORM with your advance order and return it in a sealed envelope to the front office by Friday, May 14. Cash please; no checks will be accepted. You may purchase:
Mega Mango 12 oz $3.25
Peach Perfection 12 oz $3.25
Strawberry Whirl 12 oz $3.25
If you have questions, please call Mrs. Velasco at 714-776-1717 Ext. 221.

NEED UNIFORMS FOR NEXT YEAR?
Vicki Marsha will be in Alumnae Hall Monday, May 17 and Wednesday, May 19, 3:15 to 6 p.m. for uniform ordering and fitting.

GIVE BLOOD - SAVE LIVES!
Cornelia Connelly School will host the Red Cross on May 25 for a blood drive. The Connelly Community is invited to donate blood from 8 a.m. to 2 p.m. Appointments are not necessary, but are encouraged for parents. One pint of blood can save three lives! For more information about this event, contact Evelyn Dinnen at [email protected] Alumnae, please contact Cerise Metzger at [email protected]

POPS CONCERT - May 25
Please join us at the Connelly Pops Concert, May 25 at 7 p.m. at Servite. More than 75 Connelly students will perform in Connelly's internationally renowned choir and handbells ensembles. The night's collection of songs includes tunes from: Star Wars, Sister Act, Pirates of the Caribbean, Jurassic Park, The Wizard of Oz, The First Wives Club and Willy Wonka and the Chocolate Factory. Tickets are $10 for general admission and $5 for students. For more information about the concert, call 714-776-1717.

USED BOOK BUY-BACK - June 10
Sell your textbooks back to myschoolbookstore.com on Buy-Back Day, June 10. ASB will collect books at Connelly on June 10 from 10:30 a.m. to 3:30 p.m. Please speak to librarian Mrs. Daugherty for details.

SUMMER ENRICHMENT PROGRAM - June 21-25
Do you know a 6th or 7th grade girl looking for a summer program?
Connelly will host 6th and 7th-grade girls at its Summer Enrichment Program June 21-25. Girls can have the Connelly Experience and take classes in English, science, math, religion, art and Spanish and learn about the transition to high school. For more information about the Summer Enrichment Program, call Connelly Admissions at 714-776-1717 Ext. 234.

Senior Maya Karon wins title at statewide thespian festival
Maya Karon '10 and members of the Tri-School Theatre attended the California State Thespian Festival March 26-28 at the Ontario Convention Center. Students competed and earned many awards and honors at the festival of more than 1,000 students. Karon was selected for All State Tech Crew for scenic painting and named as Outstanding Technician.

Girls Athletic Association Banquet set for May 12
The banquet will be held in the Connelly Auditorium at 6 p.m., May 12. Tickets are $10 per person and $5 for anyone 5 years and younger. Your RSVP and payment are due to Mrs. Henry by May 7, please.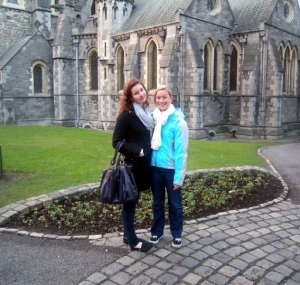 Connelly students share the Holy Child experience in Killiney, Ireland
Sophomores Emily Dubelbeiss and Catherine Wippler spent seven weeks studying at Holy Child School in Ireland, as part of the Holy Child Network of Schools exchange program. The girls wrote home to chronicle their experience in Ireland. Read all about it at http://www.connellyhs.org/page/5820.

Connelly students' art in exhibit at Laguna College of Art and Design
Fourteen pieces of art by 13 Connelly students were featured in "Color it Orange" - a prestigious, countywide art exhibit organized by the Designing Women of Laguna. The students' work was selected from thousands submitted for the competition. Their art was displayed at the Laguna College of Art and Design March 14-21. Congratulations to Rebecca Brunter '12, Hayley Byk '12, Marisa Castaneda-Garcia '12 (2 pieces), Sierra Christy '12, Hannah Dementor '12, Vanessa Hernandez '12, Caroline Hiatt '12, Brenna Mullally '12, Monica Nguyen '10, Marissa Ortiz '12, Andrea Rodriguez '12, Molly Schaefer '12, and Jasmine Sturr '12.

Connelly Science Fair Winners Announced February 23
1st Place Physics - Maya Karon
1st Place Chemistry - Rebecca Brunter
1st Place Botany Applications - Madeline Nolde
1st Place Zoology - a tie between Cassandra Stambuk and Cecilia Becker
Most Original Project - Audrey De Los Reyes
Best Display - Liana Rizkalla
Honorable Mentions:
Physics - Katherine Breiding
Physics - Nicole Yost
Chemistry - Rebecca Dizon and Catherine Wippler
Chemistry - Kristin Obligacion

Community Compassion CONNELLY
Connelly's students continue to reach out and help others
Students raised $545.50 for the Leukemia and Lymphoma Society's Pennies for Patients program. Connelly rallied in groups by graduating year to compete in Penny Wars. Each grade level gathered money in large jugs. The entire proceeds were donated.

Each grade level put pennies in a jug marked with their year, but other classes were allowed to put silver coins or bills into those jugs to cancel out the cash equivalent in pennies collected. All four classes succeeded in cancelling the pennies collected and all four classes ended with negative balances - collect more cash and silver coin than pennies. The Senior class won with the least negative total of $65.95.

Congratulations students
Click here to see the First Semester Honor Roll for 2009-2010.

Saron Shiferaw '10 and Rachel Michael '10 are Connelly's nominees for the National Honor Society 2010 Scholarship. They were chose to represent Connelly as models of high academic achievement and service to school and community.

News from the Garden Guardians
It's been a nice wet month since the last Garden Day, and the plants and weeds are growing vigorously. Come help us from 8 to 11 a.m. March 20 to get the garden tuned up for spring. We invite you to stay for the Garden Volunteer Appreciation Luncheon and Orchid and Plant Sale 11 a.m. - 1 p.m. We especially invite the 19 generous families who have adopted garden areas and cared for them all year. This is an opportune time to come out and show them off!

We welcome your donations of plants, gift cards, and garden decorations for our popular silent auction. Proceeds go toward new garden projects in August 2010. Please bring donations to school by Wednesday, March 17.
10-9-09 A letter from the Head of School regarding influenza
Parents, We need your help to contain the flue virus and prevent infecting others. Please read the 10-9-09 letter from Sr. Francine Gunther regarding using your good judgment in keeping your daughter and those around her healthy. Click here for the letter.